MXLarge - News Thursday 14th February 2013
Torsten Hallman was one of the men responsible for introducing motocross to the United States. Hallman was a four-time World Motocross Champion when he came to the United States in the late-1960s as part of Edison Dye's efforts to popularize both the Husqvarna motorcycle brand and the sport of motocross. Hallman's incredible skill on a motocross bike was a revelation to American fans and racers.
Klicka på rubriken för att läsa mera!
Bilden - MXLarge reportage!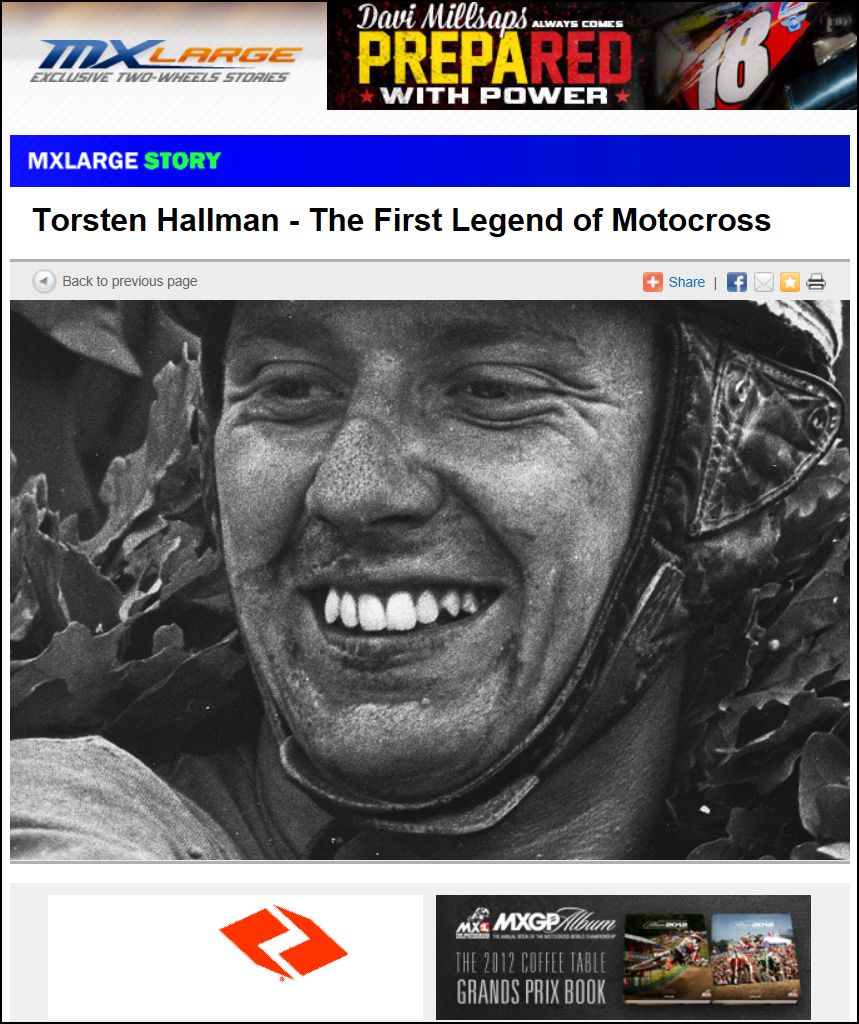 Within a few years after Hallman's first visit, motocross became the most popular form of motorcycle racing in the United States. Hallman was also a savvy businessman and founded a riding apparel company, Thor, that heavily influenced the look and function of motocross riding gear.
Hallman was born in 1940 in Uppsala, Sweden, a scenic university town about 50 miles north of Stockholm. Hallman's father and older brother were both motorcycle racers. The Hallmans built a small practice track on the farm where they lived. They often hosted many of the top Swedish racers, who would come to the farm when they were in the area to train on the practice track. From a young age, Hallman would sneak his older brother's bike out for a stealthy ride. Hallman's first bike was a 100cc DKW, which he quickly wore out from riding so much. His father then moved young Hallman up to a Royal Enfield 125.
By the time Hallman entered his first formal competition, he was already a skilled rider. He won that first race and knew that he wanted to pursue a racing career. "The results really lit a fire for motorcycle racing, and it became the one thing on earth to live for," Hallman said in his book, Mr. Moto-cross, written in 1970.
Hallman's big break came in 1957 when he won a major junior team race riding a Husqvarna. It was then that Bror Jauren, manager of Husqvarna's racing team, gave Hallman the chance to become a factory-supported rider.
By the 1960s, Hallman was competing in the world championships. He would go on to win the 250cc motocross world title four times. His battles with Belgium's Joel Robert were considered some of the best in the history of the championships. Hallman might have won even more titles, but he was carrying more than a full plate. During the early-1960s, Hallman was a full-time university student and a full-time racer. In 1965, his senior year in college, the workload became heavy and Hallman had to back off on his racing and training schedule, yet he still managed to finish fourth in the world championships that year.
Hallman made his first trip to America in 1966 at the behest of Edison Dye to help introduce the sport of motocross to America and to help promote Husqvarna. Hallman's method of introduction was to enter scrambles and other off-road events throughout the fall and dominate like no other rider had done before. One race in particular gave Hallman a great deal of notoriety – the Hopetown GP held in near Simi Valley, California, which was then the foremost motocross-style scrambles race in America.
"The Hopetown race was where I sort of became famous in America," Hallman recalled. "The newspapers wrote quite a lot about me and my Husky after my success. No one had ever dreamed that it was possible to ride so fast on a motorcycle in motocross."
With his reputation established in America he and Malcolm Smith briefly opened a motocross school in Riverside, California.
Hallman's visit helped spur Husqvarna sales, so he was invited back the following season with other world championship and Swedish Husqvarna riders. "That was basically the birth of the Inter-Am Series," explains Hallman, referring to America's first major motocross series. "It was the series that made motocross so popular in America."
A back injury slowed Hallman by the end of the 1960s. His results suffered and Husqvarna dropped him from the factory squad. The fledgling Yamaha motocross effort quickly picked up Hallman and the factory made the most of the world champion's knowledge. With Hallman's input, Yamaha developed its championship-winning YZ series of motocross bikes, the first production motocross machines to utilize mono-shock rear suspension.
Besides being a world champion racer, Hallman proved to be a world-class businessman, as well. He became a Husqvarna dealer in Sweden and then began to sell motocross pants and gloves at the races to help supplement his income. This eventually led to the formation of Thor (Torsten Hallman Original Racewear). From the company's beginnings out of the trunk of Hallman's car, Thor grew to become one of the leading off-road racing apparel companies in the world. Hallman later sold his interest in the company, but remains Sweden's Thor importer.
When inducted into the Motorcycle Hall of Fame in 2000, Hallman continued to run his importing business in Sweden. He will always be remembered not only for his world championships, but also for being one of the key catalysts behind the rapid growth in the popularity of motocross in America during the late-1960s.