I helgen kördes den första motocross VM-tävlingen i Matterley Basin, England och den amerikanska Supercrossen kördes i Arlington, Texas. Klicka för att läsa vidare!
Bilden – Den stenhård fajten mellan Prado och Gajser var nära att slutat illa!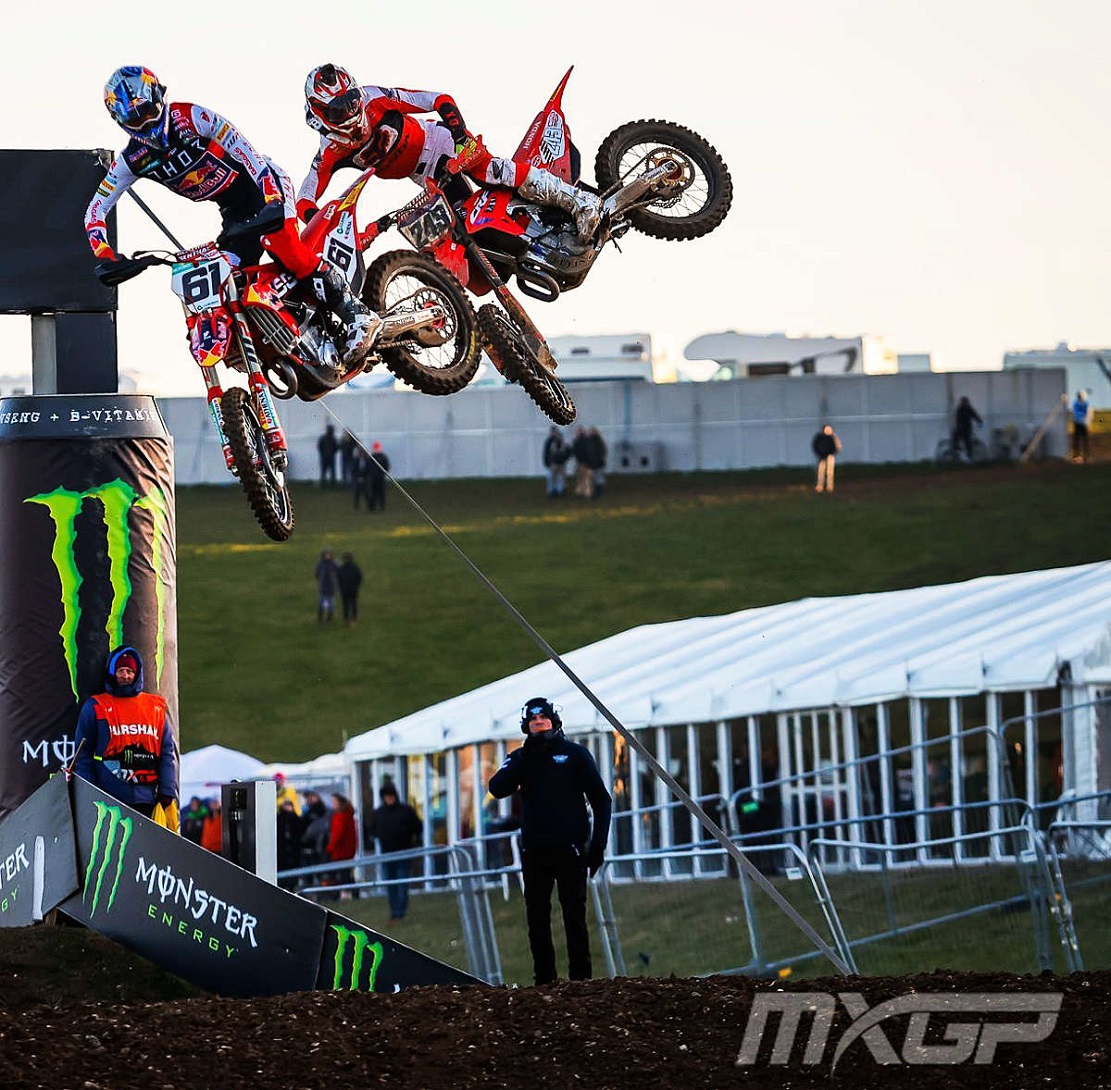 Utan motstånd från Jeffery Herlings och Romain Febvre, som båda är skadade och från Tony Cairoli som slutat, blev det ändock en tuff match för Tim Gajser att vinna första VM-tävlingen. Schweizaren Jeremy Seewer ledde till sista varvet i första heatet då han vurpade och Prado vann andra heatet efter en tuff kamp med Gajser genom hela heatet.
Slutställningen efter första VM-tävlingen 2022.
1 – Tim Gajser Honda
2 – Jorge Prado
3 – Jeremy Seewer
I 250-klassen segrade överraskande tysken Simon Laengenfelder på GasGas före favoriten Tom Vialle.
Supercrossen i Texas.
Den vanns av Yamaha föraren Eli Tomac före Jason Andersson. Båda dessa förare är för tillfället en klass bättre än de övriga i fältet.
I 250-klassen var det som vanligt stenhård kubbning mellan förarna där ingen vill ge sig. Flera otäcka vurpor hände, speciellt mellan de två favoriterna Jett Lawrence och Austin Forkner som krokade ihop i målhoppet. Se bilderna nedan! Lawrence klarade sig utan skador, däremot befaras att Forkner har en axelskada.

Skadorna blir fler och fler. För det första så satsar förarna mer än tidigare – ära och pengar hägrar – men är det vettigt att bygga stadium banorna så svåra att det vecka efter vecka blir fler och fler förare på skadelistan! Kolla listan av skadade förare nedan!
Bilden – Kolla bildserien - Här hoppar Lawrence och Forkner ihop!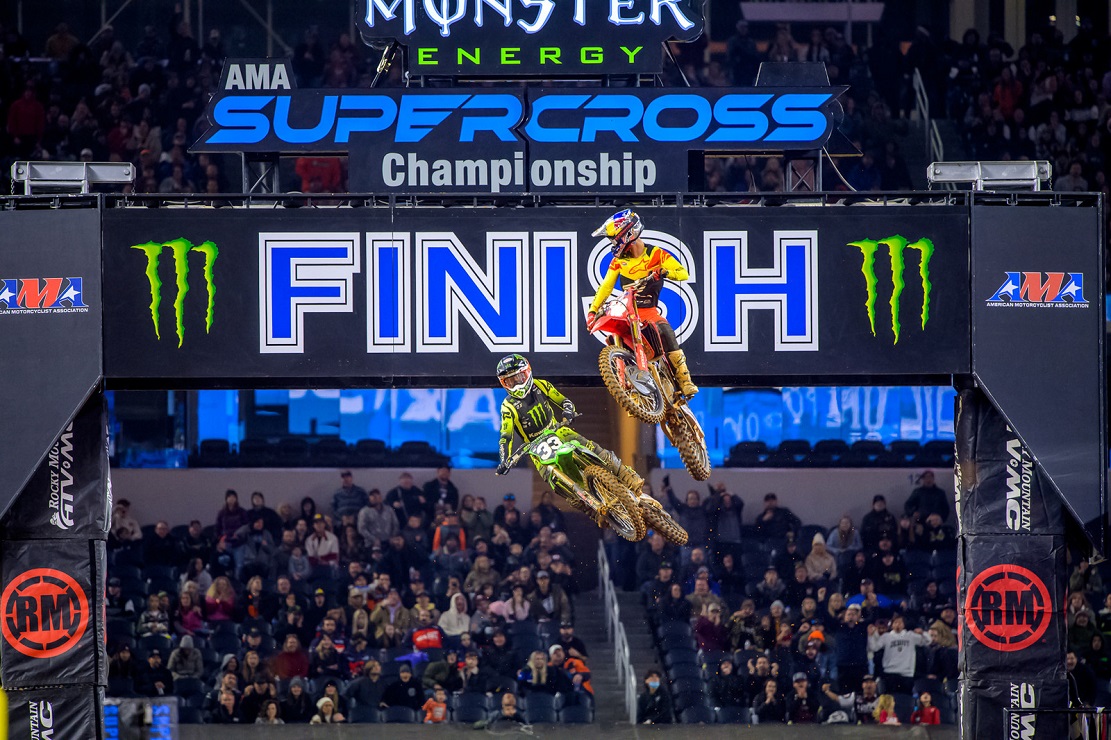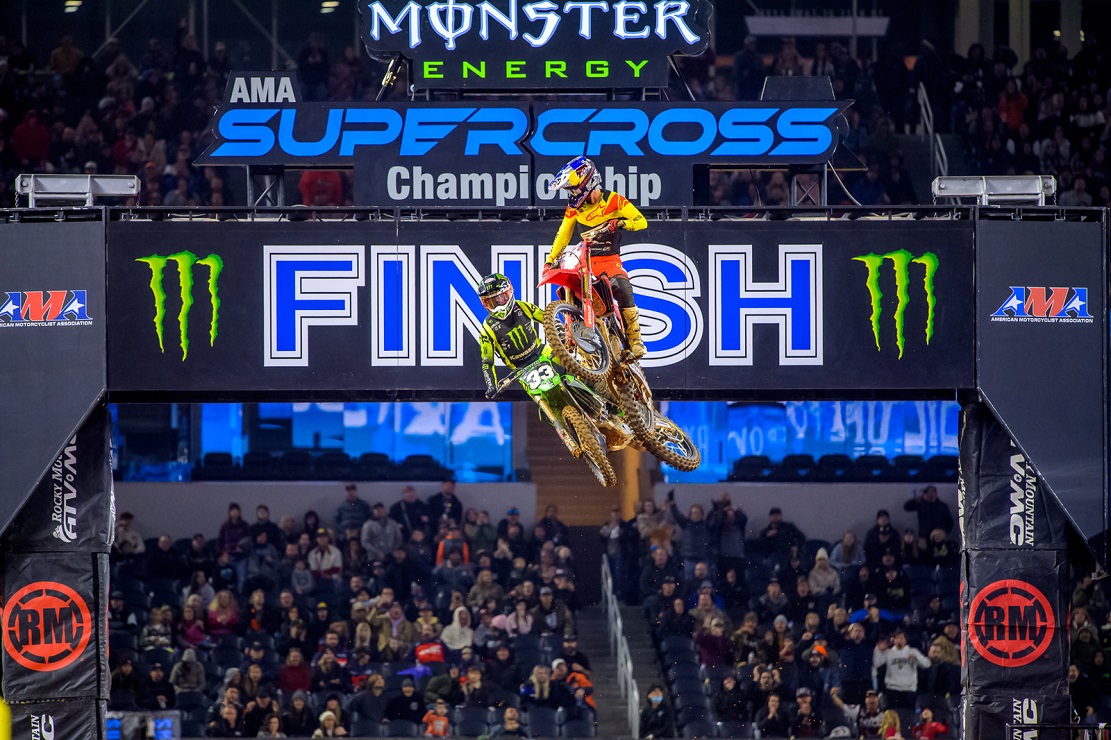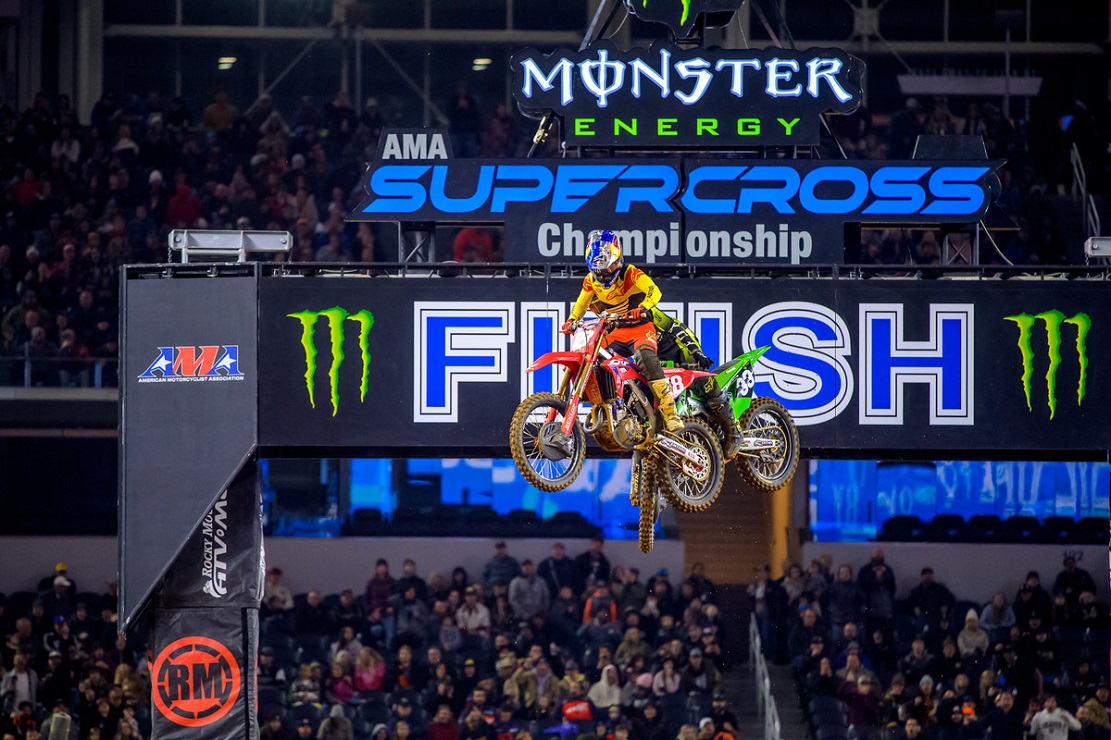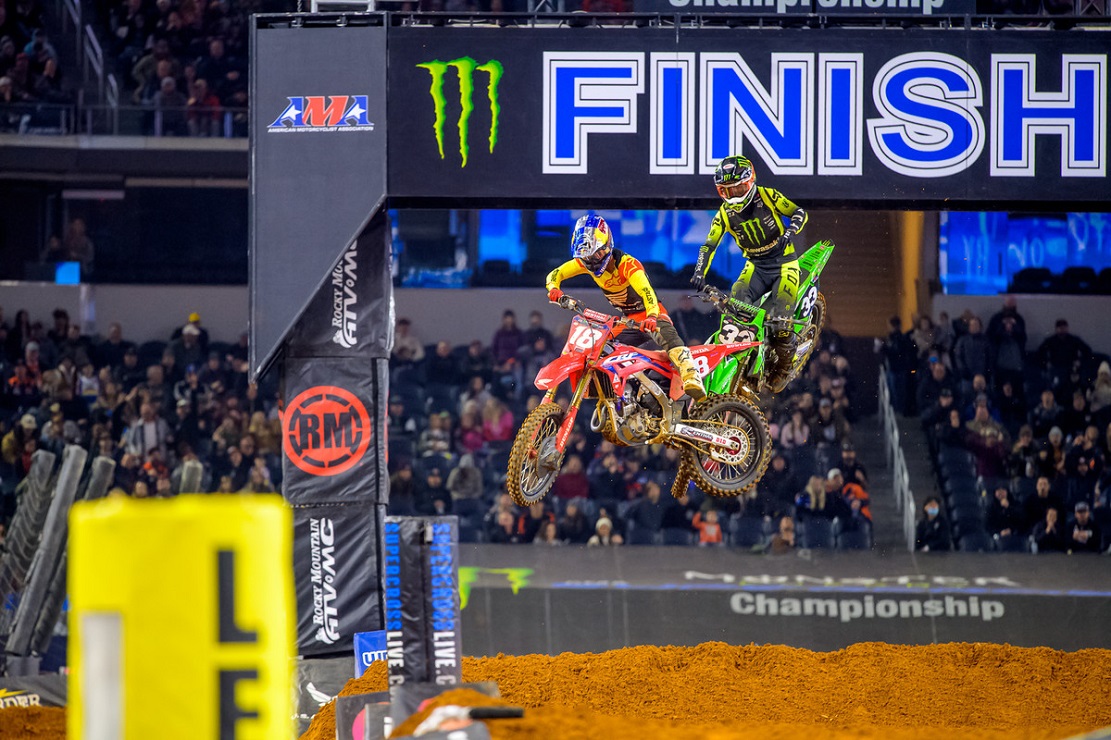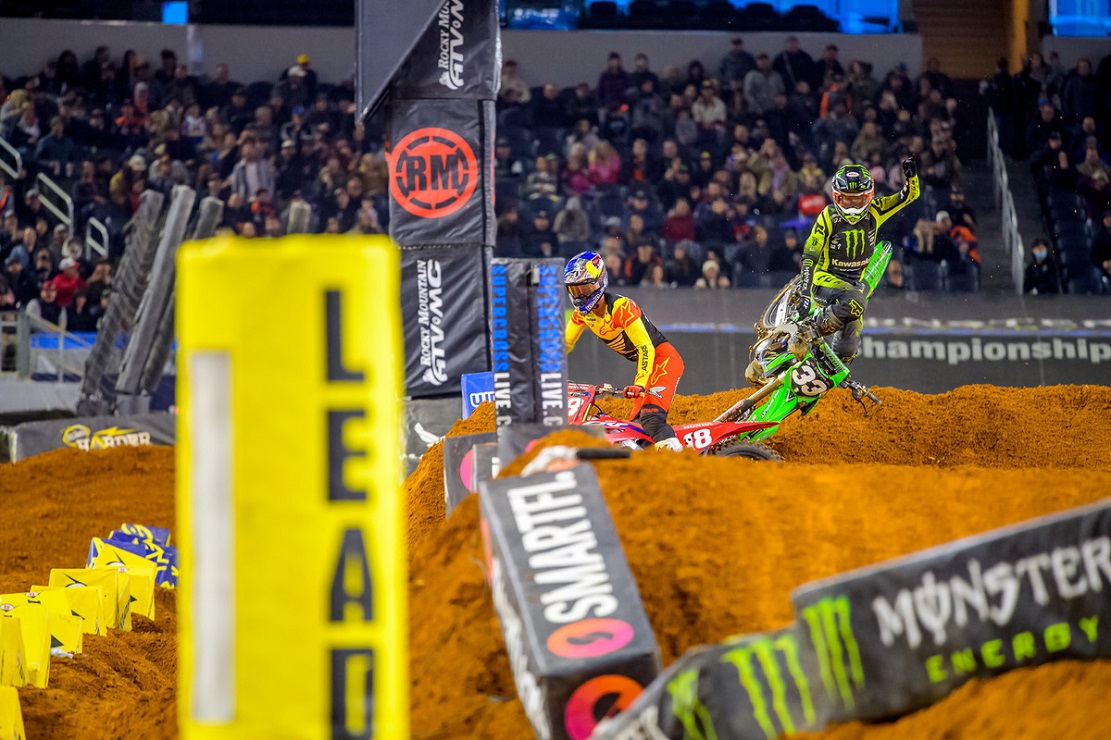 Bilden nedan – Här är resultatet efter de slog ihop i hoppet!

Här är listan på de förare som var skadade innan tävlingen i Texas - där tillkom det flera!
450SX CLASS
Max Anstie – Ribs, Neck, Lung, Heart | Out
Comment: Anstie had a bad crash in Minneapolis and broke two ribs, collapsed a lung, bruised his heart, and is severely banged up. On Instagram he said, "So in reality it's only ribs so I'll see how I am over the next few weeks but I'm pretty confident that I won't miss many races." His loose hope is that he'll be ready for Seattle.
Benny Bloss – Collarbone, Ankle | Out
Comment: Bloss hasn't raced yet this season due to an injured collarbone and ankle suffered before the season. Several weeks ago he told us his goal was to be back roughly around Daytona or Detroit.
Adam Cianciarulo – Knee | Out
Comment: Cianciarulo is out for the supercross season with an injured knee.
Josh Hill – Hip, Pelvis | Out
Comment: Hill is out for a substantial amount of time following fractures to his hip and pelvis, sustained during qualifying at Anaheim 3.
Vann Martin – Back | Out
Comment: Martin had a bad crash during qualifying in Minneapolis in which he sustained broken T6 & T7 vertebrae. He's out for the foreseeable future
Aaron Plessinger – Arm | Out
Comment: Plessinger broke his arm earlier this week while practicing. There is currently no timetable on his return, but he's out for the immediate future.
Jerry Robin – Shoulder | Out
Comment: Robin crashed in the whoops at A3 and sustained an AC joint separation. He's going to sit out Arlington this weekend to let it rest and go from there.
Joey Savatgy – Knee | Out
Comment: Savatgy will miss the remainder of the supercross season due to a torn ACL.
Chase Sexton – Head | TBD
Comment: Sexton was on the verge of winning the 450SX main in Minneapolis, but unfortunately made a mistake and crashed hard. He was put into concussion protocol as a result. He's back training, but at time of posting there was no official word on whether or not he'd be lining up in Arlington
250SX CLASS
Jack Chambers – Shoulder | Out
Comment: Chambers suffered a crash during qualifying, injuring his AC joint in his shoulder. He is expected to miss at least four weeks.
Justin Cooper – Foot | Out
Comment: A broken foot will prevent Cooper from racing supercross in 2022.
Ryder Floyd – Foot | Out
Comment: Floyd is currently sidelined with broken metatarsals.
Jonah Geistler – Leg | Out
Comment: Geistler is out after a crash resulted in a broken tibia and fibula.
Jett Reynolds – Wrist | Out
Comment: Reynolds sustained a broken wrist during media day in Minneapolis. He's out for the immediate future.
Max Vohland – Shoulder, Collarbone | Out
Comment: Vohland was involved in a crash in Minneapolis that left him with a "a massive hematoma to the right shoulder and a couple of small cracks in my clavicle." He's out for Arlington
Mitchell Falk – Back
Comment: Falk has a bulging disc pressing against his sciatic nerve. He's out for the supercross season.
Seth Hammaker – Back, Spleen
Comment: Hammaker is out for the foreseeable future due to compression fractures in his back and a grade three spleen laceration. The injuries were sustained while practicing during the week preceding San Diego
Ty Masterpool – Wrist
Comment: Masterpool is back riding, but as of now is unsure of when he'll be able to return to racing.
Carson Mumford – Shoulder
Comment: Mumford crashed in Glendale and sustained a small tear in his labrum in his left shoulder. He hopes to be ready to go when following the 250SX West Region break.
Colt Nichols – Arms
Comment: Nichols is out for supercross with a pair of broken arms and serious burns sustained when he crashed in the whoops at A1.
Dilan Schwartz – Shoulder Comment: Schwartz is dealing with a shoulder injury sustained at A2.
Jo Shimoda – Leg
Comment: Shimoda is currently recovering from a foot injury sustained at A3.
Richard Taylor – Arm
Comment: Taylor crashed during practice at A3 and broke his arm.
Cole Thompson – Shoulder
Comment: Thompson is done with supercross for the season due to a torn labrum in his left shoulder
Bilden nedan - Den här typen av hopp finns på alla Stadiumbanor. Tjusigt att kolla på men ack så farligt när man blir många i luften samtidigt!